---
---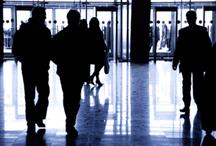 Ten Top Tips: Get the most out of an exhibition stand
By Mike Spicer Friday, 24 August 2012
Trade shows and events can be a double-edged sword. Lots of prospective customers and clients wandering around, ripe for the picking, but lots of competition too. Mike Spicer, CEO of Pulse Group, has these tips on how to really make the most out of an event stand.
1. It's not about how big your wallet is
Budget isn't everything, it's how effectively you spend that money so don't worry if eeryone else seems to have a flashy bit of technology to wow passers-by and you don't. Follow the basic rules like: open spaces are more inviting than cluttered, crowded ones.

2. Don't overcomplicate things
Don't be so naive as to think everyone knows who you are, or what you do. Use clear and simple messaging so that potential customers can immediately understand your positioning.

3. Brand experience
Rather than just handing out information to those who ask, create an experience for visitors to your stand. Chat to people, and use visual tools that are intrinsically linked to your brand and proposition - ones that visitors will remember. Use this as a platform to build relationships that go beyond a mere business card.

4. Data capture
Your stand may be a success in terms of visitors, but real success should be measured by the long-term connections you make. Make sure you've prepared a creative way to encourage visitors to allow you access to their data, in exchange for the experience you're providing.

5. Find a reason for people to be at your stand
In order to stand out, you don't need to have bundles of cash to throw around – often all it can take is a single, simple idea. For example, at this year's Taste of London, frozen drinks brand Rocktails handed out ice cubes at the entrance, which could be redeemed at their stall for a drink. Due to the fact ice happens to melt quite quickly, many visitors made a beeline for the stand.

6. But giveaways aren't everything
Giveaways can be a useful tool when used correctly, but branded merchandise that ends up as nothing more than litter on the floor is both a waste of time and money. If you're going to give away an item, make sure it's something memorable and on-brand.

7. Get there early
It sounds like an obvious point, but the last thing you want is 30 minutes of panic followed by a late start. Consumers are always more likely to go back to the first set of stalls they visited, and you get the best chance to make a lasting impression if you are ready to woo customers as soon as the doors open.

8. Get on the front foot to weed out timewasters
Especially in a sales environment, you don't want to be spending your entire afternoon speaking to a few select people who like to chat, but don't like to buy. By intercepting approaching visitors with some questions of your own, you both allow yourself to find out about them and control the conversation.

9. Get Social
Today, it's becoming rarer and rarer to find an event or exhibition where some form of social conversation isn't already going on. Get ahead by owning the virtual space, as well as your own physical one. Find out which Twitter hashtags are associated with the event, join the conversation on Facebook, or consider tweeting updates throughout the day.

10. Use your imagination

Your stand is the centrepiece, but it shouldn't be standalone. Utilise other marketing tools, as well as any channels the organisers may be using, to maximise awareness of your presence before and after the event.
Mike Spicer is CEO of Pulse Group
blog comments powered by

Disqus
---