---
---
May 2013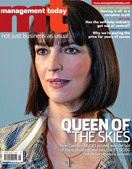 The May 2013 issue of Management Today includes:
If you would like to receive a digital subscription to Management Today please click here. Or for a print subscription please click here.
Interviews:
The MT Interview: easyJet CEO Carolyn McCall on steering easyJet into the FTSE100
You Live and You Learn: Berkeley Group's Tony Pidgley on how he got lucky.
Decisions: Geronimo Inns founder Rupert Clevely on dangers of buying a pub in London's East End
Globetrotter: Christian Rauch, Montblanc's director of pens and leather goods.
Features:
Get a life. How Britons became obsessed with self-help manuals.
A new view of leadership. For every Winston Churchill there's a Fred Goodwin. What's the secret to a good leader?
Are we paying the price for years of excess?
Books:
Heather McGregor finds Sheryl Sandberg's Lean In a jolly interesting read.
Green and Black's pioneer William Kendall enjoys two takes on the theme of entrepreneurial endeavour.
Howard Davies finds How Asia Works a thought-provoking read.
Archives
---