---
---
September 2013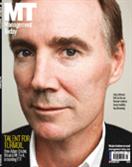 The September 2013 issue of Management Today includes:
If you would like to receive a digital subscription to Management Today please click here. Or for a print subscription please click here.
Interviews:
- The MT Interview: ITV boss Adam Crozier, who has made a career out of jumping from the frying pan into the fire via Saatchis, the FA, Royal Mail and now ITV, where he is taking on the might of Sky and BT in an effort to stay in the game.
- You Live and you learn: Lord Myners on why the Labour Party is uncomfortable with business.
- How we beat the odds: Kevin and Julia Hartz, founders of $1bn business Eventbrite.
- My style: Alex Mahon, CEO of Shine Group, gives us an insight into everything from her handbag to her favourite hotel.
Features:
- Invasion of the Russian oligarchs: Russia's wealthy have long been drawn to London and its financial markets. But will new City regulations drive them away?
- Worth not birth: Why the workplace has a long way to go in terms of class equality.
- How to be a better boss: The busier you are, the more likely it is you'll get into bad management habits. Is it time to slow down?
Columnists:
- Howard Davies: A warm summer has cheered up the UK.
- Luke Johnson asks how many great entrepreneurs have lied on their CV.
- Denise Kingsmill: Why does lousy customer service still exist?
- Smoke and Mirrors: It's a torrid week for our spin-meister as he's told he has to reapply for his own job and one of his rivals sets the office on fire.
Archives
---