---
---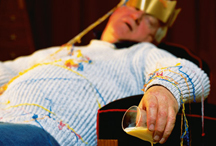 Top Ten Tips: Put the Christmas sparkle in employee engagement
By John Sylvester Friday, 02 November 2012
Keep your staff engaged and productive this Christmas, without quashing the festive cheer, with these tips from John Sylvester, executive director of P&MM Motivation.
Latest Stories from Management Today
As the end of another tough year approaches, employee input and overall engagement levels can begin to wane as the business gradually winds down. However, the weeks leading up to Christmas can be extremely valuable to an organisation and, if approached correctly, can have a real impact on the company's success in future months by providing a vital head start for the New Year.

1. Take stock of the year so far
A powerful way to improve the overall business function is to take staff feedback into account. Ask employees what the business highlights have been for them, what needs to be improved and how. Once accumulated, utilise feedback to identify areas for improvement and prioritise these for next year. To maintain engagement, keep staff informed regularly about plans and developments.

2. Deal with 'itchy feet'
As the year concludes, employees may place a new career high on their agenda. However, employees who feel valued will be less likely to look for new work. To help retain good staff, discuss opportunities and objectives for progression. Having clear goals for the following year in place helps employees to feel integrated.

3. Reinforce your company values
Poor communication from the top down remains a key factor in staff dissatisfaction. The end of the year is an excellent opportunity for senior management to re-communicate the company vision and values.
4. Pay isn't the only way
Whilst the annual pay rise is seen by many as the most effective way to engage and motivate staff, this isn't necessarily the case. Staff reward programmes that are linked to performance and attributed to desired behaviours will play a major role in maximising employee output. Cash is a short term motivator that will soon get absorbed into the day-to-day expenses.

5. Rewards for all
Providing additional, smaller rewards more frequently encourages employee participation at every level. It ensures that goals seem achievable not only to high fliers, but to those staff who could make a valuable contribution if their performance and productivity were to improve. Offer all staff members the opportunity to be successful.

6. Publicly recognise success
Equally as important as the reward itself is the format in which it is presented to the recipient. The presentation of an award in front of peers with acclaim from the boss for a job well done is a fantastic way to spread the Christmas joy and creates positive lasting memories.

7. Cheerful savings
What better time of year to help staff save money than Christmas? Organisations can boost staff morale by giving their employees the chance to earn significant and unlimited cashback savings on their every day spending by offering prepaid cards such as MySpree. It's an excellent tool to boost morale, improve relationships, build a rapport with employees and improves retention by enabling staff to stock up on Christmas shopping – whilst generating cashback of up to 5 per cent at major high street retailers.

8. Consider the year ahead
The end of the year is a time when all businesses should plan ahead. Getting their engagement strategy defined early will ensure that they kick start 2013 well.

9. Flexible friend
As Christmas approaches some employees may face additional external responsibilities, particularly those with young children who may have nativity plays to attend. Employers who support staff by being flexible will benefit from appreciative employees who wish to repay them with hard work and loyalty.

10. Celebrate
Whilst it's important to focus on work and productivity don't let the importance of celebrating be overlooked. Although the big budget parties of previous years may have been abandoned, it's still important to prioritise a celebration – even on a tight budget. After all, all work and no play is simply uninspiring.


John Sylvester is executive director of P&MM Motivation and board director of the Institute of Promotional Marketing


blog comments powered by

Disqus
---