---
---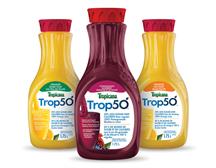 Tropicana gets creative juices flowing with one-off designer dress
By Michael Northcott Thursday, 07 February 2013
That's right, the PepsiCo-owned drinks manufacturer has put a limited edition designer dress on sale for a mouth-watering £555 to celebrate a new brand launch.
So Tropicana, the orange juice maker, is launching an offshoot brand called Trop50 which makes drinks with half the normal sugar and calorie levels of normal juice. And to inaugurate it, the firm has teamed up with designer Richard Nicholl to produce the limited edition dress.
It's a strange one if you consider the inverse. You normally wouldn't expect Alexander McQueen to rattle off a few bottles of fizzy drink to promote 'sustainable water usage in design'. But then, it would probably be hailed as 'creative' if they did.
Still, just 50 of the dresses will be on sale from a pop-up shop in London, aimed at raising awareness of PepsiCo's own charity work – all of the profits from the dresses will be donated to Fashion Targets Breast Cancer.
Trop50 has enjoyed significant take-up from UK retailers – as all of the major supermarkets now list it, and so does Boots.
Still, quite a convoluted PR stunt, if you ask us.
blog comments powered by

Disqus
---