---
---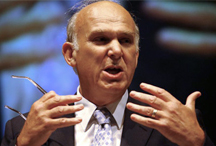 TUC highlights wage stagnation as threat of general strike grows
By James Taylor Monday, 06 June 2011
Vince Cable's GMB speech today looks unlikely to quell union disquiet - or forestall widespread strike action this month.
Latest Stories from Management Today
Official figures out last week showed that average pay has flat-lined in the public sector over the last year - good news for the Bank of England in its (losing) battle with inflation, but bad news for our chances of avoiding a mass public sector strike. With suggestions that some 750,000 staff could walk out on June 30, Business Secretary Vince Cable will be telling the GMB conference today that any such 'general strike' could be self-defeating - because it could ratchet up the pressure for tougher anti-strike laws. But on a day when a TUC study suggested that many middle and low earners have seen hardly any improvement in their incomes in the last 30 years, it will probably fall on deaf ears...

250,000 members of the Public and Commercial Services Union are currently being balloted about a strike on June 30, and if it goes ahead, it looks as though various teachers' unions will also walk out on the same day, swelling the numbers to 750,000. And it's not all rosy in the private sector, either: according to the Times, workers at National Grid are about to reject the latest pay offer from management, which involves a 2.5% hike for the year just gone, 3% for the current year, and RPI for the year after. This might sound respectable enough, given the current average settlement is 3%. But the unions argue that the offer for this year and last is too far below inflation, particularly given how well National Grid is currently doing (its profits were up by a quarter last year).

So it's pretty clear which way the wind is blowing - which is why Cable is using today's GMB speech to try and call for moderation. In his speech, he praised the unions for their role in mitigating the impact of the recession by cutting sensible deals with management over pay and hours. As long as strike levels remain at their current historic lows, he'll suggest, 'the case for changing strike law is not compelling'. But if strikes are called, and they cause lots of disruption, 'the pressure on us to act would ratchet up'. In other words: strikes may make the situation worse, not better.

Although the rest of Vince's speech was actually quite conciliatory, it's clear that the unions and the Coalition are still on a collision course over the impact of the public spending cuts. But according to the TUC, the underlying problem is not a recent one: its new study suggests that although low-income workers have seen their pay rise by 27% in the last 30 years, the pay of the top 10% has risen by more than four times that - the result being a widening pay gap, and more inequality. So we shouldn't blame the recession for the recent income squeeze, says the TUC's Brendan Barber - it has just exacerbated a problem that's been growing for decades. Vince may have a job talking his way out of that one today...

blog comments powered by

Disqus
---