---
---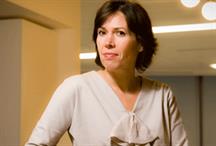 How to pitch
By Emma Haslett Thursday, 01 March 2012
Most of us are only too familiar with the sweaty palms and knocking knees that go with presenting. How do you keep calm when a demanding client is all that stands between you and your goals?
Be daring
Nervous pitchers can learn from the legendary example of a pitch by ad agency ABM to British Rail, back in the equally economically dismal 1970s. When the railway executives arrived at ABM's offices, the reception was strewn with litter and the receptionist ignored them. After 20 minutes, BR's chairman began to walk out - at which point the head of the agency welcomed them with the words: 'Gentlemen, you've just experienced what the public's impression of British Rail is. We'll show you exactly how we're going to turn that around.'
This kind of boldness will help you stand out from your rivals - whether that means confronting your audience with a few home truths or simply going slide-free. As Stephen Bayley, co-author of Life's a Pitch with Roger Mavity (Corgi), points out: 'None but the brave deserve the fair.'
Get in there early
Don't wait until the day of the pitch to start making an impact. 'Win it before you even walk into the room,' says Tracy De Groose [pictured], managing director of marketing agency Carat, which has just won a £3.3bn contract with General Motors, the biggest advertising pitch win in history. Find reasons to get in touch, whether it's to ask them a quick question or to send them something to read. 'People should be talking about you to them, whether they're at social or industry events,' she adds.
By the time your pitch comes around, you'll have begun to build up a rapport. 'We've just won a client in Newport,' she explains. 'In five weeks, we found reasons to go to its office five times. That sort of thing wins it.'
Know your stuff - and theirs
Different people require different approaches and the more you know about them, the more you can tailor your presentation. Use everything from industry contacts to trade journals, media interviews and even people who have pitched to them before to find out their likes and dislikes. 'It's mainly people,' says Adam Soliman, founder of tea company Charbrew. 'Try to squeeze all the information you can out of them.'
PowerPoint: use with caution
A few slides can add impact to your presentation, but beware an over-reliance on PowerPoint. 'Many people don't have good concentration,' explains De Groose. 'You can lose them in 10 minutes - especially if they're senior. If they're entrepreneurs, you might have them for five.'
Instead, use the time you have to tell a story. Avoid being linear: begin with the problem ('your company isn't making money'), then explain how you came up with a solution. If your solution is good, they shouldn't need any more convincing than that.
Honesty is the best policy
Being open about your failings can be difficult, but it can also be powerful. 'Honesty is one of the most difficult attributes,' says Bayley. 'But it's also one of the most attractive.' Being upfront means you won't have to cover up anything later and it can humanise you and your business. But use it wisely: just blurting out the truth without being asked won't get you anywhere.
The follow-up
Your pitch isn't over when you shut your laptop. Begin by following up, asking clients if they have any questions. If they sound keen, arrange any meetings while you're still fresh in their minds.
If you weren't successful, be gracious and always ask for feedback. 'You often end up learning more when you get it wrong than when you get it right,' says De Groose.
blog comments powered by

Disqus
---