The 10 most blatant film and TV product placements
Looking to get your products on screen? Here's how NOT to do it.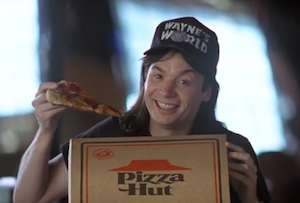 1. Wayne's World
In at number one is this satire from Mike Myers and Dana Carvey. 'Wayne's World' is the Saturday Night Live-inspired story of two live-at-home youths who present their own basement television show and are exploited by a gaming corporation. Well aware of the culture of product placement, they decided to spoof the shit out of it, with Pizza Hut, Doritos, Reebok, Nuprin and Pepsi all appearing very deliberately (and in that order) in this 1:39 minute clip.
2. The Thomas Crown Affair
In at two because it did exactly what Wayne and Garth were attacking, but seven years later, 1999 hit film 'The Thomas Crown Affair' features this scene, in which Pepsi One is, well, milked.