10 Reasons to be cheerful
After a fairly depressing week, here are ten reasons why the current turmoil isn't all bad news...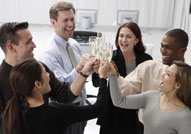 As the ill winds of the financial crisis sweep across the Atlantic and around the world, they will surely blow some good. A few of us might even benefit from the chaos. October's MT brings you the upside of the downturn.
- AN END TO TEDIOUS DINNER-PARTY CONVERSATIONS ABOUT BOOMING HOUSE PRICES. The property crash must surely also mean no more formulaic housing makeover TV shows fronted by Kirstie and Phil, Sarah Beeny et al. For too long, these have been an easy fill for lazy-minded telly chiefs who would cross the street to avoid a new idea if they ever saw one. Never again will you have to endure a pair of deadbeats from Leicester wittering on about the 'wow factor'.
- REDUCED CARBON FOOTPRINT. Recession equals reduced consumption, fewer hydrocarbons burned and less CO2 emitted. QED. The roads are already less congested and petrol sales have fallen for the first time in 10 years. Airlines are canning less-popular flights and routes and parking surplus aircraft in the Arizona desert. Bus and train travel is booming, and the high cost of electricity and gas is encouraging householders to don another jumper rather than turn up the thermostat. It may not be fun but it's good news for the planet.