10 things that can unexpectedly ruin your career
From dress sense to hairstyles... Here are 10 things that shouldn't kill your career prospects, but often do.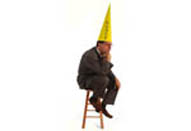 It would be nice to think that all managers viewed all staff as equal and judged only on results, but this is far from the case. There are still plenty of small ways in which people discriminate, even if many of the worst prejudices, such as sexism, racism and homophobia, are now strictly policed and have become comparatively rare. Some are apparently trivial - can you discriminate against a poor dress sense? Or visible piercings? Should you? What about accents, beards or baldness? Others are more important - religious or political views, weight and the kind of polish that a good background and a posh education give you.
Most of these lesser workplace stereotypes, says professor Cary Cooper of Lancaster University School of Management, are well documented in academic research: 'How would you react to someone who is obese - or a woman in bright red lipstick and a very short skirt? These are all non-verbal cues and shouldn't affect your judgment. But they do.'
Many of them also involve a degree of self-deception - that is, you chose not to promote the salesman, not because he was fat and ugly, but because you believed his thinner colleague had a better manner. Which is really deniable shorthand for 'he's obese and unattractive'.