10 websites that changed the world
Ever wondered how the web got to be the all-encompassing phenomenon it is today? As part of Internet Week Europe, Story Worldwide, the content marketing whizzkids, have compiled the ultimate list of game-changing websites.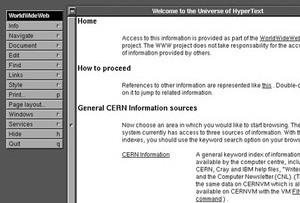 From "The Project", built by Tim Berners-Lee to Antirom's browser-crashing Blue Dot antics, these are the sites that re-invented how we play and interact online, the pioneers that paved the way for today's net giants like Facebook and Google, and the visionaries that saw endless possibilities through the world wide web
1. THE PROJECT – 1991
Organisation: CERN
Designed by: Tim Berners-Lee
Built in: HTML 1.0
What it did for the web: Gave birth to it.

The original world wide web was born at the European Organization for Nuclear Research (CERN) in March of 1989. Tim Berners-Lee was the visionary who saw the opportunity to share data through a "multiply connected web" and built an information system to connect and share documents on personal computers.

By 1990, Berners-Lee had created a browser-editor that ran on the now obsolete NeXTStep Operating System. He called it the WorldWideWeb. The first website, or 'The Project', was published the following year in 1991. You can still see it here, albeit re-formatted for today's computers. http://www.w3.org/History/19921103-hypertext/hypertext/WWW/TheProject.html.