Another 1,200 jobs to go at BA after worst-ever first-half
The threat of Christmas strike action looms large, after British Airways posted a record £292m loss...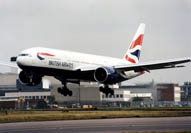 The latest news from BA today was even worse than expected: a £292m loss for the six months to September, as revenues continue to plummet. Considering that this includes the all-important summer holiday period – hence why BA has never failed to make a first-half profit since its privatisation in 1987 – that's a pretty shocking sum. The only silver lining for CEO Willie Walsh is that it may help him force through his restructuring plan – although the extra 1,200 job cuts BA announced today (taking the total to almost 5,000) are not going to help his already fraught relationships with the unions...

Perhaps the most alarming figure in today's results was BA's ballooning pension deficit, which in the last six months appears to have more than doubled from £1.17bn to £2.66bn. In other words, the liability is now larger than the entire value of the company (currently about £2.3bn). Now we're not pensions experts, but we're guessing that's probably not ideal. Particularly as the fund's trustees still haven't published their own revaluation, which is due out in the next few months and could be even higher.

But the core business is also still in dire straits: BA said revenues during the period dropped 14% to £4.1bn. Walsh called this 'the most difficult year in the history of British Airways' – and although the decline in passenger numbers seems to have bottomed out, demand is clearly still weak, particularly among its all-important business class customers. As a result, BA managed to lose the equivalent of £1.6m every single day during the six-month period – which rather bears out Walsh's point that the airline needs to cut costs as soon as humanly possible.

Having orchestrated similar cuts at Aer Lingus (earning the nickname 'Slasher' in the process), Walsh clearly has the stomach for this. But the unions continue to fight him tooth and nail; Unite has just failed with an attempt to get a high court injunction blocking the changes he's trying to introduce, but it will challenge them in court next year. And it's pressing ahead with a strike ballot: the results are due in mid-December, so a Christmas strike is definitely on the cards. That would put a big hole in the rest of the year's profits.

Nonetheless, all this bad news didn't stop BA's share price jumping 6.5% this morning – presumably due to a report in the Spanish press that BA is nearing an agreement with Iberia about its potential tie-up. Although with the EU Competition Commission currently throwing its weight around right, left and centre, it seems a bit premature to be counting chickens...

In today's bulletin:
Another 1,200 jobs to go at BA after worst-ever first-half
RBS losses balloon and more Brits than ever go bankrupt
Read our new blog: John Vincent's Life of Enterprise
Is Lord Alan Sugar out of touch with SMEs?
Editor's blog: Buffett betting on rail