A 19-year-old school dropout has just won £80,000 investment from Deborah Meaden on Dragon's Den
LAUNCHPAD: Jordan Daykin's patented plasterboard fixings tamed the fiery dragon. And he only employees other teenagers.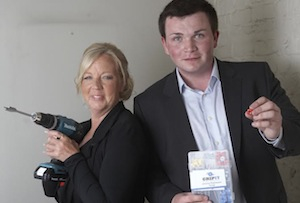 Not every 19-year-old can boast of having raised £80,000 to take their nascent business global. Then again, not many will have dropped out of school aged 13 and proceeded to set up their own companies.

Jordan Daykin has become the youngest ever entrepreneur to win investment on Dragon's Den, securing £80,000 investment from the notoriously tricky-to-please Deborah Meaden, in return for a 25% stake in his company Grip It Fixings. Daykin developed the patented plasterboard fixings with his retired engineer grandfather after struggling to put up a curtain rail and applied for a patent, aged 14, in 2009, which was granted in November 2012.

Before pitching to the Den in mid-March, the Wiltshire-based teenager had already got his product into 500 stores across the UK, signing deals with DIY chain Wickes and builders' merchant Travis Perkins. 'I was looking to go into the US,' he tells MT. 'I thought of instead of making mistakes and it taking 10 years, a Dragon would have all the contacts.'

The fixings are now being sold in 1,400 shops around Britain and Daykin is currently in talks with Tesco and Sainsburys after being put in touch by Meaden, who invested after testing out a chair suspended by chains attached by his fixings to a plasterboard wall. 'So far she's been brilliant,' he said. 'I've met her three times personally since the Den and we speak every day either by email or on the phone. She's quite on the ball.'

That's not always been the case for supposedly successful contestants. Plenty of 'investments' turn out to be loans with strings attached, while one study found more than a third of deals fell through after the cameras stopped rolling, for contractual reasons or because the Dragon retracted the offer. The show has also garnered criticism for encouraging the Dragons to focus on what makes good TV rather than what makes a good investment.

Daykin insisted there are no caveats to the deal with Meaden, though, telling MT the cash had landed in the company bank account on 7th July.

After his parents split up when he was nine, Daykin moved in with his grandparents aged 13 when his Dad went to Sierra Leone for work. He moved schools after 'a teaching bullying issue' but the next one 'was just not for me' and he 'managed to twist their arms' and persuade his family to home school him.

Daykin then set up a website selling products for online fantasy game RuneScape and Tutor Magnet, after looking for his own tutors and seeing 'a gap in the market for a tutoring agency, but with a more personal touch' (the former is now shut down and the latter mothballed).

Failing the only GCSEs he took – in ICT and English – doesn't seem to have dampened Daykin's ambitions. The business is 'on track' to turn over at least £750,000 this year, with net profit of £250,000, rising to £1m and £450,000 in 2015 – 'conservative figures' drawn up before he won Meaden's investment.

Grip It employs four full-time staff, including Daykin's girlfriend Laura, and 11 part-timers to pack the product, all aged 17-19. 'I've had a few people working here that are older but they don't seem to want to take orders from me because I'm younger than them,' he explained.

Daykin doesn't tell potential stockists his age and pitched to some before he could even drive. 'I've gone to some [meetings] with my Dad. They start directing questions at him and he has to say, "It's nothing to do with me, I'm just the driver."'

'It's not been too much of a difficulty, maybe it will be next week [after the show goes out],' he said.
- Read MT's feature: Infighting, tax evasion and dodgy deals: The dark reality of Dragon's Den