20 QUESTIONS: Bernhard Niesner, Busuu
The founder of the online language learning network says he wishes he'd moved his company from Madrid to London sooner and argues we should fund healthcare instead of the military.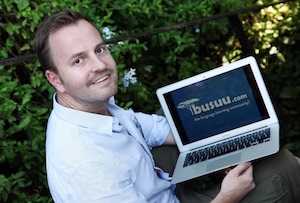 1. IF YOU HAD DONE SOMETHING ELSE WHAT WOULD IT HAVE BEEN?
If I hadn't taken the decision to do an MBA and become an entrepreneur I'd probably still be miserable as a management consultant.
2. WHAT ELSE WOULD YOU NAME YOUR BUSINESS?
My co-founder initially named it Lingling.li (li is the domain for Lichtenstein). I can't think of a more horrible name for a business, so I'm very glad we decided to scrap that. We are super happy with our name, because Busuu is a language from Cameroon spoken by eight people. There are 8,000 languages and 3,000 are about to become extinct.
3. IF YOU COULD BE BASED IN ANOTHER CITY WHERE WOULD IT BE?
We started the company in Madrid and after five years trying to scale we moved to London in 2012 with a big moving van of 200 boxes. It's not very recommendable to be honest - that's why I don't want to move cities again.