20 QUESTIONS: Divinia Knowles, Mind Candy
Divinia Knowles, COO and CFO of online games firm Mind Candy, gives her take on Amazon, antiques and enterprise education.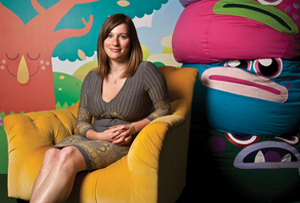 1. IF YOU HAD DONE SOMETHING ELSE, WHAT WOULD IT HAVE BEEN?
I interviewed as a graduate for a job at MI5. It would have been amazing if I had got it! Alternatively I would have loved to own my own antiques and design business; I hope I will in the future. That industry is ready for digital disruption and I'm keen to have a go.
2. WHAT ELSE WOULD YOU NAME YOUR BUSINESS?
I love the name Mind Candy so I wouldn't change it. Founder Michael Acton Smith was very clever to come up with it.
3. IF YOU COULD BE BASED IN ANOTHER CITY, WHERE WOULD IT BE?
San Francisco. It has a fantastic vibe and culture. People work hard but are also very upbeat, ambitious and friendly.