20 QUESTIONS: Glenn Shoosmith, BookingBug
The founder of the online booking system talks beer, Bitcoin and his fear of going back to work for a bank.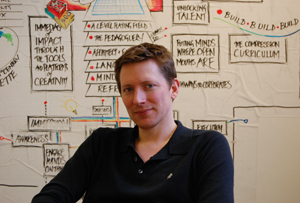 1. IF YOU HAD DONE SOMETHING ELSE WHAT WOULD IT HAVE BEEN?
When I was studying computer science at university I wanted to do movie special effects with Industrial Light & Magic, George Lucas' firm. Then I went for an interview with a special effects company in Soho and realised there were a lot of geeks in dark rooms who never see the light of day, so I decided to take another path.
2. WHAT ELSE WOULD YOU NAME YOUR BUSINESS?
I sometimes wish I'd picked a more generic name that didn't actually have the word 'booking' in it, so that if we want to expand into different things we're not saddled with a name that identifies us in a certain way.
3. IF YOU COULD BE BASED IN ANOTHER CITY WHERE WOULD IT BE?
London is a fantastic place to live and I've never really found another city I like quite as much. If you could move London down towards Barcelona where the weather was better and there were fewer strikes I think that would be about right.