20 QUESTIONS: Jon Reynolds, chief exective of SwiftKey
The young entrepreneur behind the award winning SwiftKey app talks socks, gravity and High Speed 1.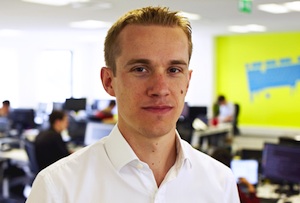 1. IF YOU HAD DONE SOMETHING ELSE, WHAT WOULD IT HAVE BEEN?
I had no chance at being a footballer, so that was out! When I left university, I joined the Civil Service and was excited about the opportunity to work on changing government policy and improving people's lives. If I hadn't set up SwiftKey, I expect I'd still be there - hopefully working on something exciting that would have a big impact.
2. WHAT ELSE WOULD YOU HAVE CALLED YOUR BUSINESS