20 QUESTIONS: Katie Powell, Mama Jeanius
The founder of the maternity jeans brand talks flying planes, her beginnings as a florist and bad behaviour on The Apprentice.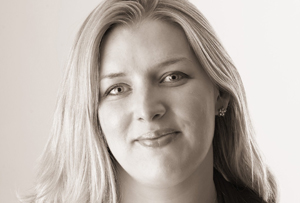 1. IF YOU HAD DONE SOMETHING ELSE WHAT WOULD IT HAVE BEEN?
I would have been an equine vet. I have a passion for horses and the countryside. It would have been a completely different course, but I think it would've been very interesting.
2. WHAT ELSE WOULD YOU NAME YOUR BUSINESS?
We did toy around with a lot of other ideas. Mama Jeans was one, but we just didn't think that had legs. Jeanius didn't have the maternity connection.
3. IF YOU COULD BE BASED IN ANOTHER CITY WHERE WOULD IT BE?
New York, definitely. It's vibrant and it works 24-7. You meet some incredibly interesting people, and it's a real melting pot of different cultures. I love the different seasons – they're quite dramatic. I've never been so cold anywhere as New York in January, and then it's boiling hot in the summer.