20 QUESTIONS: Marc Francis-Baum, Barworks
The man behind such London drinking institutions as Camden Town Brewery and the Hoxton Bar & Kitchen explains why bar work is a serious business.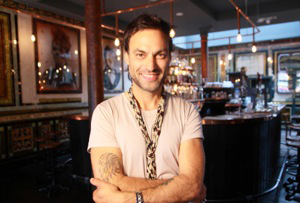 Marc Francis-Baum was the manager of the Two Floors bar in Soho when he decided to set up on his own. His two bosses were so impressed, they joined him and since 2000, Barworks has been responsible for some of London's best-known drinking dens, including Hoxton Bar and Kitchen, which they sold for £1.9m. The group has just opened its seventh American Diner in Spitalfields, east London.
1. If you had done something else, what would it have been?
Working in bars was always a way for me to pay for being a musician in a band. At the time I thought I could do it. Now, you look back and go actually, that would never have worked.
2. What else would you have named your business?
We had actually registered the name BRMC for a joint venture with someone: it stood for Bars, Restaurants, Music, Clubs; but it's also like the band Black Rebel Motorcycle Club. That's from the Marlon Brando film The Wild One.