20 QUESTIONS: Patience Arinaitwe-Mugadu, Vegesentials
Should banks be more lenient with women when it comes to lending? Juice maker Patience Arinaitwe-Mugadu thinks so.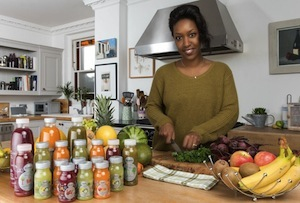 1. IF YOU HAD DONE SOMETHING ELSE WHAT WOULD IT HAVE BEEN?
I worked in the legal industry and sales, but I didn't really connect emotionally to any of them. I was a full time mum to three children and I thought when the third turns five, I'll think about what I want to do with my life. My youngest is now four.
2. WHAT ELSE WOULD YOU NAME YOUR BUSINESS?
We thought about The Fresh Generation. It felt a bit too long, so we went with Vegesentials, with The Fresh Generation as the slogan.
3. IF YOU COULD BE BASED IN ANOTHER CITY WHERE WOULD IT BE?
We've got a registered office in London, but we mainly work from home in Chesham in Buckinghamshire. It's quite rural, so you can switch off and really enjoy the quiet in the country. We thought about Berkhamstead, but that was too urban. We also thought about Rickmansworth and Hemel Hempstead, but always in the countryside.