20 QUESTIONS: Rob Halliday-Stein, BullionByPost
The entrepreneur on how he presented his rivals with a golden opportunity, and why a partner with a head for figures is worth their weight in gold.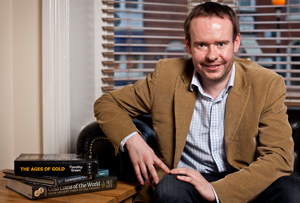 1. IF YOU HAD DONE SOMETHING ELSE, WHAT WOULD IT HAVE BEEN?
If I hadn't set up BullionByPost I think I would still be involved in selling something online, but it would probably have been along the lines of property or fashion.
2. WHAT ELSE WOULD YOU NAME YOUR BUSINESS?
Now I know more about copyright and trademarks, I would have called it something less generic. I'd call it something more protectable like 'Purple Bullion'. The wackier and less descriptive the name, the easier it is to prevent competitors from jumping on the bandwagon.
3. IF YOU COULD BE BASED IN ANOTHER CITY, WHERE WOULD IT BE?
Copenhagen in Denmark because the people are friendly and there's lots of culture. There's a more even wealth distribution so it feels a safer city.