20 QUESTIONS: Shafqat Islam, CEO of NewsCred
The founder of the content marketing platform talks life behind the wheels of steel, the misery of data entry and space travel.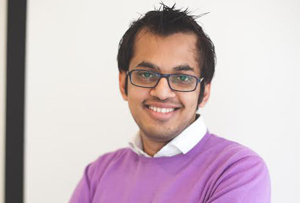 1. If you had done something else, what would it have been?
I would actually be a DJ. In college I paid my way through college as a semi-professional DJ in the Philadelphia night club scene. Instead, I ended up getting a job at Merill Lynch, mainly to make my parents happy, and then I did NewsCred, to make myself happy.
2. What else would you have called your business?
Every time we bring on a new round of investors, literally every single time, four times in a row, they've asked us to change our name. We would keep it, mainly because given how long it's been and how hard a slog it has been for us, it kind of reminds us of the perseverance and dedication required to get here. So that one is non negotiable, as I tell all my investors.
3. If you could be based in another city, where would it be?
Santa Monica, near LA. I love the area - the beach, the water, the perfect weather. But also, there's a lot of amazing talent there. Traditionally, technology companies would say San Francisco, but I like to do things a little bit differently. You're not competing with every other tech company.