20 QUESTIONS: Siân Holt, Fudge Kitchen
The fudge seller talks about Fleet Street misogyny, her passion for Paris and the genius of velcro.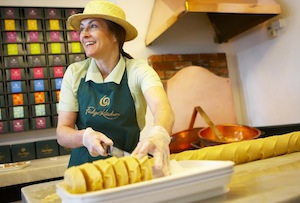 1. IF YOU HAD DONE SOMETHING ELSE WHAT WOULD IT HAVE BEEN?
I started off in marketing consultancy, but I got very fed up of having all my thoughts and reports and ideas filed away in the bottom of clients' drawers.
2. WHAT ELSE WOULD YOU NAME YOUR BUSINESS?
When I started, I seriously contemplated creating a whole new word for fudge - a new confection in its own right. I spent a long time brainstorming and we just couldn't think of another word. Other than a named fudge like Sian, Fudge Kitchen kind of sums it up, so it seems silly to have named it anything else.
3. IF YOU COULD BE BASED IN ANOTHER CITY WHERE WOULD IT BE?
Paris, because it has a passion for all things. It's got great food, it's got great architecture and it's got even more great food. I just love the Gallic mentality.