Now 200 business leaders are backing Scottish independence
Yes supporters have hit back after 130 businesspeople said they wanted to stay in the UK yesterday.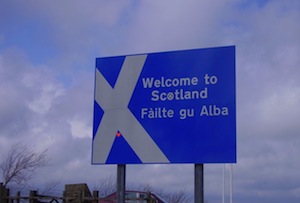 The debate over Scottish independence within the business community is hotting up. Today, 200 business leaders signed an open letter backing the Yes campaign, just a day after 130 came out in support of the Union.

The signatories to the pro-independence letter published in the Herald Scotland included Stagecoach chairman Sir Brian Souter, former William Hill chief exec Ralph Topping, ex-RBS chairman and chief exec Sir George Mathewson and Jim McColl, the chairman and CEO of engineer Clyde Bowers.

'An independent Scotland will recognise entrepreneurs small and large as the real wealth and job creators of the nation's economic future,' the letter said.

'Scotland must look outwards to the world of opportunity that awaits us. A Yes vote is the business and jobs opportunity of a lifetime for this and future generations.'

Like the 130 businesspeople who came out in favour of staying in the UK yesterday, these nationalists lead (but have emphasised they don't speak for) companies responsible for around 50,000 jobs. There the similarities end, though, with the pro-Unionists claiming 'the business case for independence has not been made' (neither letter actually makes a detailed economic or business case).

This divide over whether an independent Scotland will thrive or dive mirrors opposing politicians' increasingly personal attacks on one another's economic assessments. And this vitriol may have stopped some businesses from setting out their stall – more than 100 leaders decided not to sign the pro-Union letter as they feared an SNP backlash, ex-Scottish Whisky Association chairman Gavin Hewitt, told The Telegraph.

But what is clear, ironically, is the fate of currency, taxation, regulation and other policies dear to businesses' hearts in an independent Scotland is uncertain. And uncertainty, as any company boss worth their salt knows, is not great for business.
The full list of pro-independence business leaders
Ian and Thea McMillan, Directors, Chambers McMillan Architects Ltd
Harvey Aberdein, Managing Partner Aberdein Considine
Sandy Adam, Chairman, Springfield Properties plc
Mohammed Afzal Ali, Director, Toor Investments
Irshad Ahmed, Director, Manspeak Ltd
Andrew Aird, MD of Border Couriers
Alistair Aitchison, Director, Kilted Kangaroo
Tony Aitken, Director, AP Aitken
Kenny Anderson, Co-Founder of Anderson Construction
David Anderson, Chief Executive, AP Systems
Ann and William Angus, Proprietors of Clunie Guest House
Lesley Ann Parker, Owner of Leap Scotland Ltd
Richard Arkless, Founder of LED Warehouse
Raja Aziz ur Rehman, Owner of R & M wholesale LTD
Tony Banks, Chairman of Business for Scotland and Balhousie Care
Tom Barrie, CEO of Currie European
Frances Barron, Owner of Dessert Depot
Alistair Barron, Director, Barron Wright Partnerships
Alan Beck, Owner of Alan Beck Product Design Ltd
Craig Bedworth, MD of CGB Translations
Jim Bennett, Director of SIS Scotland
Ian Blackford, MD of First Seer
Ian Bremner, MD of Youngson Insurance Consultants
John Buchan Skipper, Fairline Surveyor, Aberdeen
Patrick Byrne, CEO of Pursuit Marketing
David Cairns, Chairman of Prism Tech
Alistair Cameron, Managing Director, Scotmas Group
Gen Cannibal, Director, Pro Genus Environmental
Mary-Anne Case, Proprietor, Blackhall Framing Gallery
Allan Chalmers, Director Chalmers Commercial Finance Ltd
Neil Clapperton, Managing Director, Springbank Distillery
Laurie Clark, Founder of ASC Group Ltd
Alan Clark, Owner of Clark's Bakery
John Clark, Owner, Belmont Communications Ltd
Graeme Coghill, MD of Aberdeen Group Ltd
Ben Cooper, Owner, Kenetics
Bob Costello, Sidlaw Executive Travel
Bill Coull, CEO at Comtest Wireless Europe
Gillian Cowan, Owner of The Jewell Room
Paddy Crerar, CEO of Crerar Hotels
Gordon Darge, Proprietor of MAK Architects
Adam Davidson, Bo Concept
Peter De Vink, Chief Executive, Edinburgh Financial General Holdings
Alan Dickson, Director, Bradshaw's Nursery
Elaine Donegean, MD of Wedding Wise
Andy Donnell, Owner of Lightning PCs
Scott Downie, Managing Director of Hungry Boy Productions Ltd
Peter Drummond, Director, Peter Drummond Architects
Colin Dunn, Plexus Media
Brian Durkin, Braid Wines and Altar Supplies
David Dwyer, Inspire Web Development
Andrew Fairlie, Restaurant Andrew Fairlie
Shahid Farooq, Director, Smartways
Athole Fleming, MD of Athole Design
Paul Fletcher, Managing Partner of Enabling Innovation
Alasdair Forbes, Primary Partner Achvaneran Farm Partnership
Hugh Fraser, Managing Partner (Middle East), global energy law firm, former Group Head of Legal Wood Group
Kevin Gibney, Director, Get-A-Reel.com
John Gibson, Director, Broxburn Properties
Alistair Gilchrist, Founder, AJG Business Consultancy Ltd
Donald Gillies, Owner, Gillies Transport Islay
Andrew Graeme, CEO of Inchbrakie Group
Sir Patrick Grant of Dalvey, MD of Grants of Dalvey
Cynthia Guthrie Joint MD of Guthrie Group
David Halliday, Owner of David Halliday Solicitor
David Hanley, Director, Competence Matters
Kat Heathcote, Director, Witherby Publishing Group
Gordon Henderson, Owner, Foxlane Garden Centre
Joe Henry, Founding Director, Planys Cloud Limited
Bobby Hill, Chief Executive, Hydracrat
John Hunter-Paterson, Owner of John Hunter Paterson Insurance
Dr Arshi Ilyas, Director of Innovation Business Ltd.
Carole Inglis, Owner, Isle of Skye Fudge and Chocolate Company
John Innes, British Venture Capitalist of the Year and Venture Capital Chief Executive of the Year, former Chief Executive Amor Group
David Keegan, Director of Bothy Bikes
Kevin Key, Director, A Star Sports
Alan Knight, Director of Invisible Emperors
David Lafferty, Owner, Aqua Energy
Joe Lafferty, MD of Lifetree
Steven J Lawrence, Director, TCD Architects
Ian Lawson, MD of Pest Protection Services
Derek Louden, Financial Director& Company Sector, ITP Solutions Ltd
Alison Mabon, Founder, DM Roofing
Iain Macbeath, Owner, Macbeath Architects
Dan MacDonald, Chief Executive MacDonald Estates
Gordon MacIntyre-Kemp, CEO Business for Scotland
Professor Sir Donald MacKay, Former Chairman, Scottish Enterprise, founding director of an oil company and a bank and non-executive director, Malcolm Group
Colin MacKinnon, Owner, Strathaven Airfield
Marie Macklin, Chief Executive, Klin Group
Donald Maclean, Business Cost Consultants
Niall Maclean, Founder, Geo-Rope
Lewis Maclean, MD of Maclean's Highland Bakery
Alex MacLeod, Director, AG Tech Limited
William MacMillan, Director, Firth Plumbing, Heating and Roofing.
Graeme Macmillan, Owner, Macmillan Financial Planning
Mohammed Mahmood, Director, M & K Scotland Ltd
Mark Mair, Skibo
Khalil Malik, Director, K Malik & Co Accountants
Nasim Malik, Managing Director, GFS Mortgages
Derek Mallon, MD of the Restaurant Group
Brandon Malone, Solicitor Advocate and law firm partner
Jack Marshall, Owner, Tapside Coffee
Sir George Mathewson, Chairman, Toscafund and former Chairman and Chief Executive, Royal Bank of Scotland plc
Jim McColl, Chairman and CEO of Clyde Blowers plc
Gerry McCusker, Owner, Dog Digital
Helen McDonough, Owner, Kennedy + Co Hair
Ian McDougall, Owner, McDougall Johnston
Gordon McFarlane, Owner of Uplift Media
James McGoochin, Director, J.M. Builders.
Ron McGregor, Co Founder McGregor Garrow Architects
Ivan McKee, Partner, Greenfold Partners
Duncan McKellar, Owner, McKellar Sub Sea
Fiona McKenzie, Director and Co-Founder, Centre Stage Music Theatre
Sheila McLean, Director, Muriel Management Ltd
Brian McManus, Managing Partner Pisces Engineering Services
Isabell McNicoll, Owner, Business Time Saver
Les Meikle, Owner, Wise Property Care
James Meldrum, Proprietor of Mel Dðcor
Robert Miller, Director, McAdam King Glasgow
Morag Milligan, Operations Manager, Milligan's Coach Hire
David Morrison, Director, Sangobeg
Barry Morrison, Owner of Barry Morrison Timber Harvesting Ltd
Stephen Mulhern, Owner of Lendrick Lodge
Brian Munro, Owner, Pat Munro Construction
Jil Murphy, Co-Founder Thin Red Line Design
Alan Murphy, Owner of Inverness Cash Registers
Ron Murray, Founder, Safety Scotland
Yvonne Murray, Director, Northern Roots Events
Omar Nabi, Director, Ahmad & Nabi McMulan
Muhammad Naveed, Managing Partner, Clyde Accountants
Mian Naveed Qasar, Chief Executive, Vision International Ltd
Alan Neill, Director, Neill Technical Services
Richard Nicol, Chief Executive Commsworld
Douglas Norris, MD Of Datec
Mairi Oakley, Owner of Darach
Eunice Olumide, Entrepreneur
Eddie O'Neill, Owner, Translations for Industry
Gillian & Kevin O'Neill, Founder of 29 Studios
Sandy Orr, Co-Founder, Mint Hotels
Mike Peddie, Owner of Secret Scotland
Professor Nathu Puri, Founder, Purico
Jamie Rae, Chief Executive Craignish Development Group
Frank Ralph, Shorline Motors and Property Limited
Mohammed Ramzan, Chairman, United Wholesale Grocers
Anne Rendall, Dundee Group Leader
Nighet Riaz, Owner of Riaz Property
Andrew Richardson, Owner Tax Assist Accountants
Mark Riddell, MD of M3 Networks
Jan Robertson, Manager of Willow Bank House
Andrew Robertson, MD, 1st Eco Tech Ltd
MIchelle Rodger, Founder of Tartan Cat Communications
Vivienne Rollo, Owner, Kishorn Seafood Bar
Bill Samuel, Private investor
Jim Savage, Chemikal Records
James Scott, Former Executive Director, Scottish Financial Enterprise
Adrian Searle, Co-Founder of Freight Books / Freight Design
Ashfaq Shaq, Director, A Shah & Co Ltd
Kenneth Shaw, Owner, Canape Wines
Mark Shaw, Chief Executive, Hazledene Group
Kevan Shaw, Owner of KSLD
Tommy Sheppard, Director of Salt'n'Sauce Promotions
Muhammad Shoaib, Shoaib Associates
Alan Simpson, Owner of Minute Man Press Paisley
Helen and Mark Smith, Directors, Montana Home Care
Mark Sorsa-Leslie, Director, Zargonic
Sir Brian Souter, Chairman of Stagecoach Group plc
Stewart Spence, Owner of Marcliffe Hotel
Jim Spowart, Founder, Standard Life Bank and Intelligent Finance
Alasdair Stephen, Director Owner, Hebridean Homes
Neil Stephen, Partner, Dualchas Building Design
Craig Stevenson, Director, Braehead Foods
Philip Stewart, Owner, Kangaroo Print
Gary Sutherland, Director, Harrowden IT
Neil Sutherland, MD of Makar Ltd.
William Tait, Director, Klondyke Fishing Company Limited
Frank Taylor, Owner of Indigo Sun
Robert Taylor, Director, Iformis Ltd.
Michelle Thomson, MD Business for Scotland
Christine and Robert Thomson, Owners of Cairngorms Solutions Ltd
Ralph Topping, retired as Chief Executive of William Hill plc this month
Angus Tulloch, Edinburgh Fund Manager
David Urquhart, Founder of David Urquhart Travel
Malcolm Wadia, Director, Plysim
Abdul Wahid, Director, Kashmir Stores Ltd
Dr Jim Walker, Chief Executive, Asianomics Group
Gerry Wallace, MD, GEM Lift Services
James Wallace, Owner of Alba Business Service
Euan Walls, Owner of Innovate Create
Terry Walls, MD of TEW Stationers
Ron Warbrick, MD of Frame Shop and Gallery
Dennis Webster, MD of Fireisk
Fergus Weir, MD of Teclan Ltd
Robertson Wellen, Proprietor, Ferintosh
Allan Whiteside, MD, Direct Line Timber
Willie Wilson, Founder, Thistle Pharmacies
David Wood, Owner, Northern Oils Group
Ivan Wood, Director, Ivan Wood and Sons Ltd
Ronnie Young, Director of Aquatron Ltd
Lorna Young, Owner, Indigo Words
Muzaffar Yusaf, Owner, Yusaf Co. Ltd