Another 3,000 jobs to go at Rolls-Royce and AstraZeneca
Corporate giants Rolls-Royce and AstraZeneca have both announced swingeing job cuts as sales slide...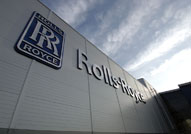 Rolls-Royce said this morning that it plans to cut up to 2,000 jobs next year, thanks partly to continuing delays to the new Airbus and Boeing planes. AstraZeneca is also having a rotten week: yesterday the pharma giant saw £4bn wiped off its share price, after it was forced to issue a profit warning. Now it's admitted that it plans to shut three of its European factories and axe 1,400 jobs in the next five years. All of which will only deepen the gloom about the job market...
Rolls-Royce boss Sir John Rose said today that the engine-maker intends to shed somewhere between 1,500 and 2,000 jobs in 2009, equivalent to about 4% of its workforce. The good news – for Little Englanders and government officials, at any rate – is that less than a tenth of these job cuts will be in the UK, even though nearly two-thirds of Rolls-Royce's workforce is based here. Although unfortunately the same can't be said of BAE Systems, which said today that it's cutting 200 jobs at its UK factories.
Both Rolls-Royce and BAE are suffering from a slowdown in government defence spending – when you're having to spend every penny in the public coffers bailing out our biggest banks, there's not much left over for 'tooling up'. But in the case of Rolls-Royce, delays to the Airbus A380 and Boeing 787 projects are proving just as costly – no new planes means no need for its engines. Then again, Rose always has run a pretty tight ship; back in January, he announced plans to cut up to 2,300 jobs before 2008 was out, so today's announcement is really more of the same.