'35 under 35' spawns its first business
Two women who met through MT's '35 Under 35' have just launched a joint venture, called K Networks...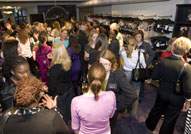 Every year MT brings together some of the UK's highest-achieving young businesswomen for our '35 Under 35' feature. Back in 2005, ad industry high-flier Nicola Mendelsohn and FreshMinds entrepreneur Caroline Plumb met through the network – and now they're launching a new online communities business together. It's enough to bring a warm glow of pride to our hearts...
'Nicola and I met at the photo-shoot for '35 Under 35' and the subsequent networking events, and we've stayed in touch ever since,' Plumb explains to MT. At the time, Mendelsohn was deputy chairman of Gray London, but she left earlier this year to chair Karmarama, an independent ad agency that works for the likes of Sky, Nintendo and Lastminute.com. In the meantime Plumb had launched technology offshoot FreshNetworks, which builds white-label online communities that help brands get closer to their customers. 'We realised straight away that it would be an ideal opportunity for us to work together,' she says.
Hence K Networks, their new joint venture. According to the pair, it's a match made in heaven: the idea is that Karmarama will be able to sell these online communities onto its clients as part of an integrated marketing campaign. And it's a growing area: earlier this year Forrester Research argued that the future success of ad agencies will depend on their ability to access customers as much as their brilliant creative campaigns.