35 Women Under 35: Meet your next boss
MT's 2013 line-up of brilliant young talent are set to grab the helm of UK plc.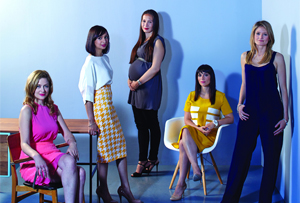 This year's group of 35 Women Under 35 are the myth-busters of business; shaking up the perceptions of what it takes to be a leader in every sector, from Premier League football to mining, to engineering and technology.
No, you don't have to be a foul-mouthed autocrat like Sir Alex Ferguson or a socially inept male geek to make it to the top of some of the UK's most competitive businesses.
Instead, as our women show, so long as you are ferociously intelligent (all our five cover stars went to Oxbridge), hard working, ambitious and confident, it doesn't matter whether you wear a skirt or trousers, have a beer belly or a pregnant bump.