£3bn tax bill sends Porsche's VW bid into a spin
Porsche's audacious bid for VW may finally have run out of road, courtesy of a potential £3bn tax liability.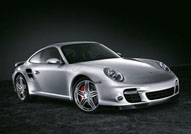 Despite Porsche's continuing financial troubles, largely a result of a €9bn debt pile built up as a result of the attempt to get its hands on VW, it had looked as though the acquisition was a done deal. The €8bn that would have come Porsche's way once the papers were finally signed would have more or less cleared its debts, as well as giving it a 75% stake in VW, a giant which makes over 6m cars a year in comparison to Porsche's 100,000 or so.

Pretty sweet, huh? That's certainly what Porsche CEO Wendelin Wiedeking seemed to think – he has single-mindedly pursued the purchase for the last four years. But now with the chequered flag in sight, it emerges that completing the deal could land Porsche with a £3bn tax bill – more than enough in the current economic climate to put the kybosh on the whole thing.

The potential liability apparently arises due to tax regs which could prevent the spinning off of Porsche's car division from the holding company, created as part of the bid pursuit, without incurring a substantial penalty. On such mundane technicalities the dreams of men are sundered.
If true, this is very bad news for Porsche - already badly hit by the recession, thanks to plummeting sales and the burden of all that debt. Earlier this year it even teetered on the brink of administration, and last month it went cap in hand to Qatari sovereign wealth fund QIA looking for a cash injection, as reported here by MT.