---
Vauxhall and Management Today's 40 over 40
---
Rav Seeruthun
Roche UK
Seeruthun started his professional life as a GP, but left after eight years to study for an executive MBA at Cambridge Judge Business School before joining the pharmaceutical industry. After stints at Eisai Europe, Napp and PPD, he became medical director at pharma giant Roche UK, where he was instrumental in campaigning for a reform of the way cancer medications are assessed. His career change could have taken him in a different direction, however. Seeruthun flirted with politics at the end of the noughties, campaigning for Barack Obama in Florida in 2008 and two years later running as a Labour candidate in the UK General Election.
Photograph copyright: Rav Seeruthun
---
Anabel Sexton
Boudavida
A veteran of the sports industry, Sexton set up her own sports PR and marketing agency before joining TaylorMade adidas as its European brand communications director and taking on board positions at The Sport and Recreation Alliance, England Netball and The England Golf Partnership. Last year, she launched her own activewear brand, Boudavida, with items ranging from sports bras to leggings. Aimed at getting more women involved in sport, her company donates 5% of its revenue to grassroots sport projects and campaigns, and local female athletes.
---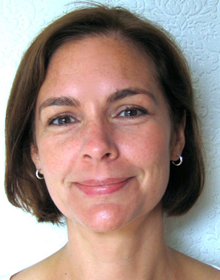 Elizabeth Shassere
Textocracy
A registered public health consultant with a master's degree in public health, Shassere worked for 20 years in the public sector, successfully leading three multi-million pound departments through major programmes of change. Three years ago she left her career to get involved in tech start-ups, building up Textocracy, a company committed to its purpose of bridging the digital divide and giving more people a chance to have a voice in public services.
---
Geeta Sidhu-Robb
Nosh Detox
Sidhu-Robb was a corporate lawyer, but when her baby son developed multiple food allergies and anaphylaxis, she gave up her job to care for him. She also had to learn how to provide a nutritious, balanced and safe diet for her son and in turn, the whole family. Her ultimate dream was to be able to walk into a shop or restaurant and have ready-made meals that her son could eat. She spent years providing local schools with healthy foods and in 2008, launched the highly successful Nosh Detox Delivery.
---
Cath Urquhart
Ely Place Chambers
When asked what she'd study if she could have her time again, seasoned journalist Urquhart would reply 'the law'. Most people would then muse over the virtues of hindsight and move on, but not Urquhart. After ten years as travel editor at The Times, she gave up the life of overnight flights and hotel inspections to go back to university, acing the law conversion and bar vocational course while freelancing. In 2010, she was called to the bar, and did her pupillage at Ely Place Chambers.
---
Ben Van Praagh
Benyfit Natural
Making a career switch can be tricky enough in middle age, but what about in your 70s? That's exactly what Van Praagh did. The entrepreneur started his first company, an engineering firm, at the age of 19. But in 2014 he launched a dog food business, Benyfit Natural, whose products are raw and grain-free and include ingredients like alfalfa, wild yam, nettles and psyllium husk.
---
Sean Vincent
Mixdown Management
Vincent became a sound engineer at the age of 17, working with musicians as diverse as The Royal Philharmonic Orchestra, Gary Barlow and Howard Jones. He spent a lot of time touring, and eventually began to miss home and feel unchallenged in his career. So when he heard that his friend, who was Kim Wilde's manager, was leaving the music business, he grabbed the opportunity to take over the role. He's now set up Mixdown Management, and is as excited about his new career at the age of 44 as he was about getting into the music business in the first place.
---
Catkin Wemyss-Bodmer
Bryt Skincare
Wemyss-Bodmer spent much of her career working in fashion PR, including at Austin Reed. But inspired by a medicine man she met while on holiday in Costa Rica, she launched botanical skincare range Bryt Skincare, whose products are free from parabens, sulphates, petrochemicals and GM products and are aimed predominantly at 16-25 year olds. The mother-of-three says her mantra is: 'Skincare should be viewed as part of a healthy lifestyle, of which beauty is a by-product.'
---
Sarah Willingham
Entrepreneur and business investor
Growing up in Stoke on Trent, Willingham was fascinated by business from an early age. In 2003, she spotted an opportunity to create a chain of Indian restaurants, and raised finance to buy The Bombay Bicycle Club – she went on to turn it into the largest and most successful Indian restaurant chain in the UK. In 2007, Willingham sold her shares in the Bombay Bicycle Club for a seven figure sum. She then appeared alongside Raymond Blanc as a judge on the BBC2 series The Restaurant, co-founding and investing in The London Cocktail Club and Craft Cocktail Company with the winners of series three. In 2015 she joined the Dragons' Den panel – her expertise in raising finance for her own businesses made her the ideal candidate to help guide several start-ups through the difficult process of financial planning.
---
Simon Woodroffe
YO! Sushi / various
Woodroffe was variously a roadie, stage designer, TV producer and distributor before being 'thrown to his economic knees' by divorce at the age of 40. He invested his remaining money – £200,000 that had been tied up in property – and a government loan guarantee and opened the conveyor-belt restaurant YO! Sushi in Soho. It now has over 100 sites around the world. In 2007 he launched YOTEL, a 700-room hotel in New York, and he has eight more hotels in the pipeline. Now, at the age of 65, he's working on YO! Home, his reinvention of the city apartment, which he plans to launch later this year. As Woodroffe says, 'Retirement is a dated concept.'
SPONSORED: New research conducted by Management Today in partnership with Vauxhall Motors to celebrate the...