4G mobile broadband spectrum auction bidders announced
The UK's telecoms regulator has revealed the seven companies that have qualified to bid for the new bandwidth that will make 4G more widely available to the public.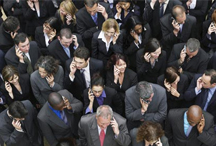 For the uninitiated, 4G is an expansion of the radio spectrum used by mobile phones, so that their internet, email, video calls and other data can run super smooth and super fast.
So Ofcom's announcing the qualified bidders is a huge step forward: it promises to eradicate those embarrassing moments when you're trying to show someone a YouTube video on your phone and it simply freezes.
'Buffering…buffering…buffering…' should be a thing of the past, once Everything Everywhere (EE), Hong Kong's PCCW, Hutchison Whampoa (owns Three), MLL Telecom, BT, and Telefonica (O2) have got their hands on some of the new bandwidth.