The 5 most cutting quotes from Tim Geithner's Eurozone crisis revelations
Transcripts of the former US treasury secretary's more, ahem, honest account of the crisis have been leaked.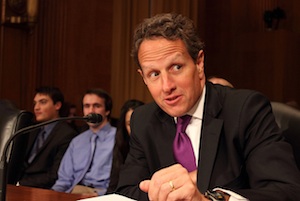 Stress Test, the book by former US treasury secretary Tim Geithner released in May, gave us some insight into the turbulent goings-on that occurred at the height of the Eurozone crisis. But early transcripts obtained by the FT contain a much greater level of detail which are sure to leave European leaders feeling embarrassed.
Particularly controversial is his view on the way Germany, France and other big countries treated Greece for failing to keep its debt under control:
1. 'The Europeans came into that meeting basically saying: "We're going to teach the Greeks a lesson. They are really terrible. They lied to us. They suck and they were profligate and took advantage of the whole basic thing and we're going to crush them," was their basic attitude, all of them…'