500,000 Brits are now property millionaires
The 20 priciest streets are all in London. No surprises there then.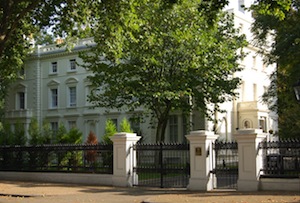 For those lucky enough to have bagged themselves a slice of London property, there is yet more evidence it's one hell of a golden nest egg. The average property on more than 10,000 streets in the UK is now worth more than £1m and over a third of those are in the capital.
The 20 most expensive streets are all in London too, while home values at the 10 priciest addresses have soared 12.9% in the last year, compared to 6.6% across the whole country, according to the research by online property site Zoopla.
The most expensive address is Kensington Palace Gardens, home to Britain's richest man Lakshmi Mittal and the Russian embassy. The average (in just one sense of the word) property there will set you back a staggering £42.7m.