500bn euros for permanent bailout fund
European ministers will meet in Luxembourg later to launch the new European Stability Mechanism, a giant permanent bailout fund to keep ailing economies afloat.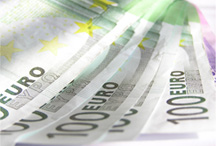 Investor fear and wider economic instability are to be quelled by the introduction of a new central bailout fund with a full lending capacity of 500bn euros (£406bn). The fund, which will be fully operational by 2014, is designed to meet the demands of European leaders' promises that the euro 'cannot be allowed to fail'. It will start life as a parallel funding body to the European Financial Stability Facility (if you can even say that without getting your tongue tied) before eventually replacing the latter altogether.
Predictably, the country making the most sizeable contribution to the fund is Germany. As Europe's largest and strongest economy, the country will be stumping up about 27% of the total fund. Member states of the single currency will need to make their first contributions to the fund later this week – good timing considering Greece's economy looks like it could be about to go completely doolally. A general strike the other week and the looming threat of the state running out of money altogether within a matter of months has made European leaders re-think their tough demands for Greece to qualify for the cash.
So how much European cash is already on the table for these calamitous economies? Well, so far, Spain has been granted 100bn euros worth of support for its groaning financial sector, and the temporary EFSF has already lent 190bn to Greece. Add this to the pledge by European leaders that the central bank will buy up Spanish bonds to prevent yields climbing too high, and you've got a serious financial outlay for the richer economies to be getting on with.