6 challenges new Tesco chief Dave Lewis will have to tackle
It's been a difficult few years for the UK's biggest supermarket chain...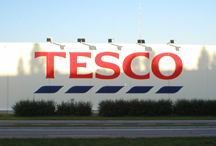 Things were just starting to get rocky when Tesco veteran Philip Clarke received his hospital pass from former CEO Terry Leahy in March 2011, and sales have fallen steadily ever since. Three years ago, Tesco's shares were trading at 400p, but are now worth 291p - equating to a shareholder loss of £8.8bn. Where did it all go wrong?

1) Tesco doesn't know which shoppers to target

Tesco's major strategic problem is that it is currently unclear about who it should target – the supermarket is caught somewhere between the more upmarket offer of Sainsbury's and Waitrose and the discounters Aldi and Lidl. These discount rivals have put intense pressure on the UK's major supermarkets in the last few years, and critics say Clarke failed to cut prices early enough to compete with the German discount brands.
Dave Lewis has been at Unilever since 1987 and is the first outsider to take charge of Tesco
---
2) It's lost its overseas advantage

Tesco's prior advantage in the form of a major overseas presence is not what it once was. Back in 2011, Clarke said he was committed to Tesco's business in the US. But as the Fresh & Easy operation continued to haemorrhage money, it was left to Clarke to shut it down 18 months later and write-off £1bn. He also wrote off £800m from the value of Tesco's land bank.

3) The UK retail market is sluggish

Conditions across the UK retail grocery market have been tough. Consumers have yet to feel the benefits of the country's economic recovery, and in May retail sales fell for the first time since January. Tesco's sales have been falling for months, and in June the supermarket suffered its worst trading in history, reporting a 3.7% drop in UK like-for-like sales over the previous three months.