7 ways our buying habits are changing
Cars and fizzy pop are in, solar panels, leather and newspapers are out.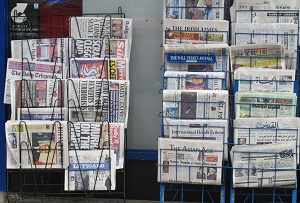 The demise of British manufacturing continues to be exaggerated, it seems. Total sales for UK manufacturers in 2014 were up 2.6% to £363.9bn from the year before, according to the Office for National Statistics' annual Prodcom report. That's 21.4% higher than in the dark days of 2009 at current prices. But while some have ridden the capricious waves of consumer buying habits, others have been swept clean off their boards. Here are some of the winners and losers.
Petrol > diesel
The decline of diesel is nothing new. Long before anyone had heard of defeat devices, UK producers were experiencing a rapid shift to petrol. Sales of motor vehicles with petrol engines bigger than 1,500cc rose 17.9% to £16.2bn in 2014, while those of diesel or semi-diesel engines between 1,500cc and 2,500cc were down 24.9% to £7.7bn.
Books > Newspapers
Print may not be dead, but it's got a serious case of gangrene. Daily newspaper sales fell 13.7% in 2014 to £137.6m, which is a whopping 69.1% decline since 2008. Lovers of the written word can take some comfort though from the resurgence of books. Sales of books, brochures and leaflets increased 6.7% to £952.6m, with average annual growth since 2008 of 8.6%. What's an e-book again?