From The A-Team to dogfood: Yahoo's crazy leaked memo
A leaked internal memo from Yahoo has revealed (among other things) Yahoo's own employees don't use its mail.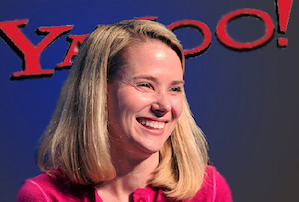 It looks like some of the managers at Yahoo have gone a bit gaga. A leaked internal memo to staff (obtained by AllThingsD's Kara Swisher) has revealed that only 25% of Yahoo's staff are using Yahoo mail – and the management are practically begging them to switch over – in a rather perplexing manner.

The internet giant is trying to get its staff to move over from their traditional corporate mail platform – Microsoft Outlook – to Yahoo. The revamped Yahoo Mail has been heavily criticised by its loyal users; the removal of the tabs function has really got people's backs up. And it looks like Yahoo's own employees aren't willing to move over to the system. Not a good sign.

Senior vice president of communications products Jeff Bonforte and chief information officer Randy Roumillat have written a memo titled: 'Windows 95 called and they want their mail app back' – which is pretty funny. So is the rest of the letter.

Here are some of the most interesting parts of the memo:

'Earlier this year we asked you to move to Yahoo Mail for your corporate email account. 25% of you made the switch (thank you). But even if we used the most generous of grading curves (say, the one from organic chemistry), we have clearly failed in our goal to move our co-workers to Yahoo Mail.'

Do the boffins at Yahoo NEED a chemistry reference to understand that 25% ain't good enough?

'It's time for the remaining 75% to make the switch. Beyond the practical benefits of giving feedback to your colleagues on the Mail team, as a company it's a matter of principle to use the products we make. (BTW, same for Search.)'

Yahoo employees have to use Yahoo search too?!! Poor things…

'For some reading this email, you are saying, "Jeff, shut up, you had me at hello." *hug*'

Bribed with electronic hugs…

'For others, you might now be running in your head to a well worn path of justified resistance, phoning up the ol' gang, circling the hippocampian wagons of amygdalian resistance. Hold on a sec, pilgrim.'

What does that even mean?

'Certainly, we can admire the application [Outlook] for its survival, an anachronism of the now defunct 90s PC era, a pre-web program written at a time when NT Server terrorized the data center landscape with the confidence of a T-Rex born to yuppie dinosaur parents who fully bought into the illusion of their son's utter uniqueness because the big-mouthed, tiny-armed monster infant could mimic the gestures of The Itsy-Bitsy Pterodactyl.'

Yuppie dinosaurs?

'But wait there's more. By using corporate Mail, you'll automatically get to dogfood our new features first.'

Dogfood? Are we missing something?

'And, like all dogfood offerings, there is a feedback link in the product. Use it generously so we can make the improvements to make Yahoo Mail the unquestioned inbox champion of the world. I pitty [sic] the fool who resists.'

Dogfood and The A-Team. It's just bizarre. Anyone who can enlighten us on what the verb 'to dogfood' means please leave your comments below.