Aberdeen Asset Management takes emerging markets hit
Boss Martin Gilbert tells investors to be patient despite jitters over the Chinese slowdown.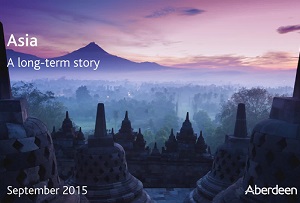 It's been a year of two halves for Aberdeen Asset Management. The solid growth it's become accustomed to fell through over the summer after it emerged the Chinese economy was involved in some sort of landing - hard or otherwise. So, while underlying pre-tax profit at the asset manager was technically up a touch to £491.6m (from £490.3m) for the full year, it actually fell 19% during its second half to September 30.
Aberdeen is heavily exposed to Asia and emerging markets, which have suffered from a collapse in Chinese demand for commodities. Investors looking to reduce their own exposure seem to be looking elsewhere. At the same time, oil producing nations are feeling the pinch from $45 crude and are pulling funds from their vast international investment portfolios to plug the gap.
Net outflows were nearly £13bn over the last quarter alone, leaving Aberdeen's assets under management down 13.5% for the year at £283.7bn.