All aboard, comrades! Labour fires up rail renationalisation plan
Labour MP Andy Sawford's bill signals the party's ready to renationalise the railways. Sort of.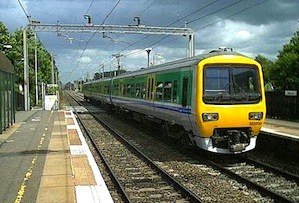 Everyone knows that, unless you live in a sinister totalitarian state (or Japan), your train will probably be too late, too crowded and too expensive. That doesn't stop us complaining about it, of course, which makes the railways a perennially hot political property.

It's no surprise, then, that Labour have stepped up their campaign to woo commuters by proposing a partial renationalisation of the rail network. Backbencher Andy Sawford, MP for Corby and East Northamptonshire, will table a bill after Prime Ministers Questions today calling for public companies to be able to compete with private ones for railway contracts.

Sawford is no Trotskyite maverick operating beyond the remit of his party. Ed Miliband backed reform of the current system in July, pointing to East Coast's succesful operation since 2009 by the spectacularly unglamorously-named Directly Operated Railways, a public company that took over emergency operation of the franchise after National Express gave it up. 'Let's extend that idea and let the public sector challenge to take on new lines,' Milband said.

Of course, Sawford's bill is very unlikely to succeed, with or without the Labour Party's blessing. But what would be the pros and cons of a partial renationalisation?
Pro - Better planning and co-ordination
If you want to run the railways, you need to be in it for the long haul. The network is a massive, ongoing investment that requires careful planning if it's to match long-term demand. Private companies holding seven-year rail franchises will clearly have less of an interest in providing the best overall results for the system as a whole in the long run, compared to a state monopoly.

That seems sound, but then franchise-holders aren't responsible for infrastructure investment, and the Sawford bill wouldn't amount to wholesale nationalisation anyway, so the difference it would make to planning and coordination would be marginal.
Pro - Lower fares and less waste
As the 30 Labour Parliamentary candidates calling for full nationalisation in a letter to the Observer in May said, private rail companies can charge high fares and 'walk away with hundreds of millions of pounds every year, despite running monopoly services and benefiting from £4bn of public investment in the rail network every year'.

Would returning at least part of the network to public ownership for the first time since privatisation in 1993 result in lower fares, then? Probably not. Fares may be high and rising, but the increases don't just fall into the pockets of monocled, 19th Century railways tycoons. The network is old and creaking - it costs to keep it going. Besides, if fares stayed down, it would be due to political pressure on the publicly-owned companies, meaning they would need to slash real expenditure or take more state subsidies. Hardly an improvement.