Adair Turner is wrong - you can't just magic government debt away
The author of Between Debt and the Devil offers a radical prescription for fixing global finance, but it risks overheating the economy and causing inflation - as well as shocking a few central bankers.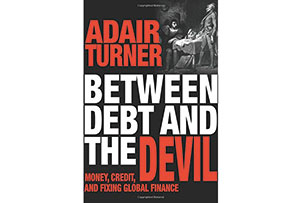 Adair Turner offers a convincing account of the debt-fuelled global economic cycle of the last 15 years or so. I found myself skimming over large sections and nodding in agreement - much of the story detailed in the first two-thirds has been rehearsed elsewhere, but Turner brings it together clearly and concisely. And he rightly draws attention to the problem of excessive debt - household mortgage debt in particular - as the dominant theme for our times. I have some quibbles: the current administration appears to believe that public debt is bad and private debt is good, and Turner demonstrates the stupidity of this view. But he takes the opposite position: private debt bad, public debt good. This view is equally fallacious: debt is debt.
I stopped skimming when I reached the final third. Here, Turner sets out his view of how to put things right - and he does not flinch from offering radical solutions. I was reminded of the Bateman cartoons in Punch of 'The man who... '; in which guests at a cocktail party stare in horror at the central character who has just committed some terrible faux pas such as using the word 'serviette' instead of 'napkin'. Turner's policy prescriptions put him front and centre in such a picture, with central bankers and economists spilling their drinks and gasping in horror the world over. 'He said WHAT?!'
He said governments should finance fiscal deficits by printing money. And he said that the stock of government bonds already held by central banks should be written off (more precisely: restructured to become 'perpetual' bonds, which never mature, and which therefore never get repaid). These two steps would mean that, at a stroke, we could stop worrying about government debt and keep the economy afloat with government spending, while households gradually paid off their mortgages. Et voila!