Adidas pulls athletics sponsorship after doping scandal
Seb Coe's plans to turn around the IAAF have been dealt a fresh blow.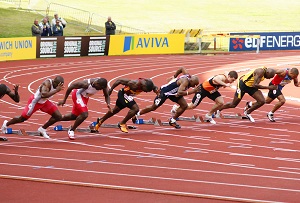 With the Olympics on the way this summer those in the world of athletics should be feeling excited about the prospect of a few weeks when people actually bother to watch their sport. But the discipline's governing body has been rocked by a massive doping scandal that now appears to have cost it a major sponsor.
According to the BBC, the German sportswear maker Adidas has decided to end its multi-million pound relationship with the International Association of Athletics Federations (IAAF) three years before it was due to expire. The move could cost the IAAF as much as $8m (£5.6m) per year. That might not sound like much in the grand scheme of things but is pretty drastic when compared to projected total IAAF revenues of $81.9m this year (and just $42.8m in 2015). Both parties have refused to confirm the deal's termination.
Adidas's decision to act follows the publication in October of a report commissioned by the World Anti-Doping Agency (WADA) that implicated the IAAF in a Russian state-sponsored doping scandal. Earlier this month WADA published a second report that claimed the governing body 'allowed' doping to occur, adding that 'corruption was embedded in the organisation.'