Most Admired veteran Unilever tops Food Producer sector in 2012
Blue chip corporate titan Unilever has made impressive inroads into new export markets, maximised shareholder value, and thrashed its industry rivals to come in at number 12 in this year's BMAC ranking.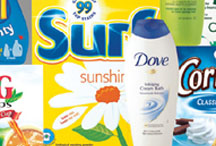 Winner of MT's Britain's Most Admired Company Award for the Food Producers & Processors sector, Unilever is amongst the most consistent long-term performers in the awards 18-year history. It's been in the overall top six no fewer than nine times, and was crowned overall winner back in 2010. This year it has beaten rivals including Greencore, ABF and Compass Group to come top of its sector and a very creditable 12th (out of 254) in the overall Most Admired league table.

Unilever's story is one of virtue rewarded, and shows that a good name is one of the most valuable assets a business can possess. Unafraid to take a leading position on the burning issues of sustainability and shareholder value, over the years Unilever has built up a solid bedrock of admiration amongst its peers. A fact which the audacious and far-sighted Sustainable Living Plan, with its implications for every aspect of the way Unilever does business, has only served to accentuate. The rest of the industry's leading players may not be moving as quickly as Unilever, but they know that they must undertake the same journey. They are watching with great interest and not a little trepidation to see how Unilever gets on.

MT's Britain's Most Admired Companies Awards is one of the most respected awards programmes in UK business, having appeared annually since 1994. It is based on an extensive peer reviews survey of the largest companies in each of 26 industry sectors, conducted by Prof Mike Brown of Birmingham City Business School. Participants rate their rivals from 1 to ten across each of nine criteria (including quality of management, financial soundness, ability to attract and develop top talent and capacity to innovate). The awards are thus based on perception as well as on actual performance, hence the Most Admired' tag. The winners are those firms which show themselves to be the most respected players in their various industries.

Since current CEO Paul Polman took the hot seat back in 2009, Unilever has even managed to win over its most diehard critics in the City. This despite (or perhaps because of) Polman's robust words on the subject of the damaging pursuit of short-term profits at the expense of long-term strategy. The firm's shareprice has been rising steadily over the past two years as Unilever has earned a key place in the porfolios of investors looking for reliable and consistent long-term performance, rather than a four-month fast buck. UK plc needs more companies like Unilever.