Aer Lingus will go down in flames without Ryanair, says O'Leary
The one and only Michael 'Oh Really!' O'Leary, boss of Ryanair, has launched a scathing attack on Aer Lingus, claiming that the business is no longer viable on its own.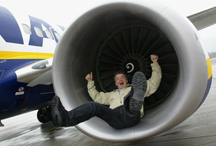 'Aer Lingus doesn't have a future except as part of one of the big five airline groups in Europe,' he told a conference on aviation policy for Ireland at the Convention Centre Dublin. 'We'd like to buy it but it certainly won't survive as an independent airline in five years' time.'
O'Leary's bellyaching could be dismissed as sour grapes: the Ryanair boss has tried repeatedly to take over the Irish airline over the years, to no avail.
His latest bid for Aer Lingus still rests with the European Commission but it doesn't look good. Aer Lingus has pulled out all the stops to avoid being drawn into Ryanair's orange, nylon embrace, cancelling dividend payments of around £40m last month in order to cover the costs of fending off the takeover bid.