Aer Lingus withholds dividend to fend off Ryanair
Ryanair's repeated attempts to take over Aer Lingus have prompted bosses to withhold €50m in dividend payouts to cover costs of defending the business.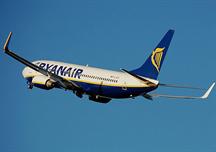 Michael O'Leary, CEO of Ryanair, has long been known for his aggressive strategy on rival Aer Lingus. The European Commission is currently considering his latest €694m bid for the company. But Aer Lingus has stepped up its efforts to protect the business from O'Leary's clutches by cancelling the dividend payments of around £40m to cover the costs of fending off the takeover bids. The firm's chief executive, Christopher Mueller, said 'the distraction is enormous', and hinted that the costs were a burden to the business, saying the money could have been used in 'a thousand better ways'.
The decision is particularly irritating for shareholders because this is the first year they would have received a dividend since the airline was privatised in 2006. Incidentally, 2006 was the first year that Ryanair unsuccessfully attempted a takeover bid. O'Leary has been a thorn in Aer Lingus' side ever since it was possible to invest in the newly privatised company. ??Of the actual amount of cash needed for legal and advisory fees, Mueller said: 'By the end of the third bid in January I predict the total amount Aer Lingus will have spent on the three defences will be as much as three dividend payments.'
But Ryanair reckons it is being a most considerate suitor: it has produced an 'unprecedented' basket of remedies for the Commission's concerns, although others are concerned that the 85% route-overlap of the two airlines would give Ryanair a near-monopoly if a deal went through. On the risk of giving Ryanair the deal, Mueller said: 'Let's do a reality check. Who on earth would voluntarily enter the market to compete with Ryanair? You need to have a cost position which is at least on the same level in order to compete on price. Ryanair is the cost leader in Europe.' A very good point – it would be tough to launch against Ryanair – but it is great publicity when your competitor starts trumpeting your low costs in public. Well done Mueller.