Agent Provocateur sold after bust-up
Starting a business with your partner can either be the perfect way to spend more time together, or a sure-fire route to divorce. For the husband-and-wife team behind Agent Provocateur, the luxury lingerie chain that has just sold a majority stake to private-equity group 3i for £60m, their thirteenth year at the helm has proved to be unlucky for some.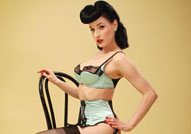 Joseph Corré and Serena Rees, who set up Agent Provocateur in 1994, separated this year and decided that they couldn't go on in tandem. 'It wasn't possible for us both to continue working together,' Corré said. 'One or both of us had to leave.' Rees has decided to leave the business while Corré stays on as creative director (as the son of fashion designer Vivienne Westwood and short-lived 'I'm a Celebrity...' contestant Malcolm McLaren, he probably has the greater cachet).
It's a horrible situation to be in, particularly since it has to be played out in public. But the sale to private equity is probably about the best possible outcome for all concerned. Both of them get some cash in the bank, while the 32-store chain gets an enthusiastic new owner who wants to grow the business – particularly in Asia, where 3i has a very strong presence.
And if you think about it: a group of slightly bemused men shuffling around looking embarrassed, searching desperately for a decent acquisition among a sea of high prices… Yes, the scene inside of Agent Provocateur shops in the run-up to Christmas is a fitting metaphor for the current state of private equity in the UK. So it's appropriate that the two are joining forces.