Air New Zealand's The Hobbit flight safety video is awesome
This Middle Earth-inspired video is the latest in an increasingly long line of hip-and-hilarious safety films.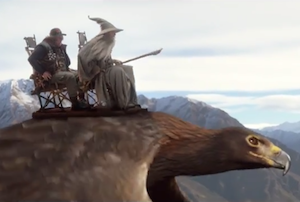 Air New Zealand has jumped on the funny flight safety film bandwagon, with the usual instructions regarding seatbelts, smoking, life vests and oxygen masks brought to life by a cast of The Hobbit and Lord of the Rings veterans, including Frodo (Elijah Wood), Radagast the Brown (Sylvester McCoy) and director Sir Peter Jackson.

In the video, Air New Zealand's second The Hobbit-themed film, two genuine fans take their seats on their flight only to find themselves next to a slightly embarrassed Elijah Wood. The two travellers then find themselves on the quest for the one ring, encountering a few safety messages along the way.

Though primarily intended to ensure passenger safety, MT can only presume the film has been released to coincide with the December premiere of the final film in The Hobbit trilogy (why else, then, would it have been released on YouTube?). The franchise has already made almost $2bn (£1.2bn) at the box office, with much more on the way from the third installment.
Air NZ's oh-so-hilarious idea isn't new, though. Delta Airlines seems to have started the ball rolling with its comedy safety videos, which feature seemingly endless visual gags, and, in the case of their 80s tribute (which commemorates the anniversary of their first safety film), mullets, rubix cubes and even the Atari games console. Virgin Atlantic were also pretty early to the party, with videos featuring Sir Richard Branson and a host of his celebrity mates.

On a serious note, though, funny safety videos are more than a joke. For one, shoehorning famous faces and mega-franchises such as The Hobbit/Lord of the Rings into them may even make frequent fliers put down their books to watch. One video to rule them all, anyone?