Airbus pays the price for management failings
Airbus factories making the A380 double-decker jet in Germany and France used incompatible design software. This meant that the wiring produced in the Finkenwerder factory near Hamburg (employing 10,000) did not match the plane on the assembly line in Toulouse. The French used computer-aided design, whilst Hamburg used 1980s software.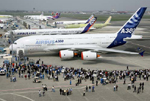 It is estimated that Airbus' parent European Aeronautic Defence & Space Co (EADS) will lose $6 billion in the next four years because of the delays in producing the A380s. The losses could make it difficult for Airbus to produce a new mid-size, wide-body aircraft to compete with Boeing's successful 787 Dreamliner.
Airbus was supposed to be a seamless, pan-European organisation. Instead, it is a 'balkanised' structure with plants in Germany, France, UK and Spain. Each one has its own operating methods. There are also 'cross-border jealousies'. On top of this problematic structure, the governments in each country have meddled with the company (they have also put in low-interest government loans). Their aim is to spread work across as many factories as possible, which helped to create the disparate organisation it is today.
The problems in the wiring was, some say, spotted by workers and mid-level managers. But the management in France did not listen, a labour-union leader in the Hamburg plant said. The A380 also lacked a full digital mock-up of the A380, a three-dimensional model, which would have helped the management to spot the wiring problem.
Christian Streiff, who quit as CEO on 9 October, had proposed re-assigning Hamburg's share of the A380 project to Toulouse to make management more efficient. Louis Gallois, Streiff's successor, has also promised to rationalise manufacturing operations.


Source:
Wayward Airbus
Carol Matlack
Business Week, 23 October 2006