Airbus: when it all started to go wrong
Airbus and its parent company EADS have experienced some gruelling moments in the past few months.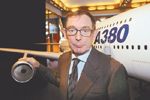 Serious problems in the manufacture of its popular super-jumbo A380s and subsequent delays in delivery have led to an unexpected announcement of quarterly losses of €4.8 billion. Last summer, the surfacing of serious mismanagement contributed to the forcing out of Airbus chief executive Noël Forgeard.
More recently Airbus' new boss Christian Streiff lasted no more than 100 days because the German shareholders in EADS refused to give him the independence that he craved in order to make the major changes to Airbus he deemed necessary. The former French civil servant Louis Gallois who currently takes on the mantle at the troubled company has finally been given the autonomy he will need to move things in a positive direction.
It is well known that the management problems at Airbus go back to the initial formation of EADS in 1999, which was a joint partnership between Daimler Chrysler and Aérospatiale-Matra. EADS controlled about 80% of Airbus. The latter also involved BAE Systems and Spain's Casa Group.
Work for the company was spread across four countries to placate the different nationalities rather than for commercial reasons. It was, therefore, a culture of political compromise from the start.
The fiercely competitive culture at the top of Aérospatiale-Matra (deliberately engendered by its boss Jean-Luc Lagardère) set in train another set of problems that were to beset Airbus. In 1999, Philippe Camus came out on top over his arch-rival Forgeard when he was made co-chief executive of Airbus, following the creation of EADS. However, instead of accepting reality Forgeard still wanted the top job.
To achieve his unfulfilled ambition he drove his division to achieve better than expected commercial results. He also baulked at demands from EADS for information and control, driven largely by the German shareholders. Forgeard's uncooperative attitude antagonised both Camus and the German co-chief executive Rainer Hertrich.
In France and Germany, the drive to beat performance targets led to a 'green light' mentality in which goals were set and expected to be taken forward. There was no opportunity to put forward and discuss serious problems. Straight away it was clear to many insiders that Airbus had over-promised to deliver on too many of its Airbus 380 orders without having the capability to do so.
There was no time, for instance, to create a blueprint to help the German teams who had to fit complex cabin cabling. The Germans also used outdated 2-D software that was unmatched to French 3-D capability. Some said one of the biggest mistakes the company board had made was not to invest in new software systems back in 2000.
Forgeard realised his dream to usurp Camus as co-chief of Airbus in 2005, with a little help from President Jacques Chirac. The open exploitation of political influence worried the German shareholders who suspected even more that the French were aiming to take over, contributing to continued internal tensions. Some said that things started to go wrong at EADS when one of its architects, Jean-Luc Lagardère, died in 2003. He was the only one, they said, who could control figures like Foregeard and Camus and also stand up to the German shareholders.
Source:
House of Conflict: how rivalries have disrupted the steep climb of Airbus
By Peggy Hollinger and Gerrit Wiesmann
The Financial Times, Tuesday November 14 2006
Review by Morice Mendoza