Airlines' wings clipped from within
Both BA and Virgin are taking flak from disgruntled staff on social networking sites.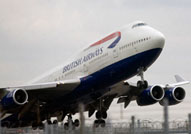 British Airways is currently investigating check-in staff based at Gatwick, who posted messages on Facebook saying that its passengers are 'smelly' and that Terminal 5 operations are 'shambolic'. The latter view is hardly radical, but BA would probably prefer such attacks to be left to outsiders.
The airline has described the remarks, some of which appeared in a staff member's Facebook discussion group headed 'Things that irritate you more when working on check-in', as 'disappointing'. Other pages set up by BA workers mocked chief exec Willie Walsh, featured a band singing about 'what a disaster' Terminal 5 is, and included the comment: 'Cabin Crew are leaving faster than Dawn French from a Weight Watchers meeting because they simply don't get paid enough.'
BA has come to expect attacks from observers. Indeed, today the airline was pulled up for its role in the T5 debacle by the House of Commons Transport Committee, which called the £4.3bn terminal a 'national embarrassment'. But having its own people slating its operations, customers and the boss on public forums is the last thing a beleaguered company needs.