Alan Greenspan almost says sorry...
The former chairman of the Federal Reserve has come the closest of anyone yet to saying the 's' word in public.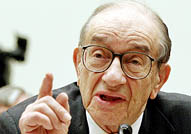 In response to congressman Henry Waxman's asking 'My question is simple – were you wrong?' Greenspan said: 'Partially… I made a mistake in presuming that the self-interest of organisations, specifically banks, is such that they were best capable of protecting shareholders and equity in the firms.' In other words Greenspan – who headed America's central bank for a remarkable 18 years until January 2006 - made the classic economists' assumption: that markets and financial organisations can be relied upon to act in a broadly rational, if self-serving, manner.

We now know of course that this is a load of rubbish, and that our financial institutions are quite capable of acting not only against the wider economy's best interests (not such a surprise, this) but also manifestly against their own long-term good. Rather like all those doctors who continue to smoke despite the certain knowledge that it is very bad for their health, people – and yes, bankers are people too - don't always take what they know is rationally the best course of action.

The 82-year-old Greenspan seems to have been rather slow taking this basic human truth on board, describing himself as being 'in a state of shocked disbelief' that his 40 years of faith that banks can be trusted to protect their shareholders' capital may have been misplaced. 'I have found a flaw' he admitted, in reference to his economic philosophy. 'I don't know how significant or permanent it is. But I have been very distressed by that fact.' Poor old Alan.

First appointed by Ronald Reagan in 1987, Greenspan is the man credited with saving the US economy after the dotcom crash of 2000, and until very recently was regarded as something of a Wall Street deity as a result. But now the financial devout have turned on him with a vengeance, because his solution to that problem – ultra low interest rates and deregulation – had some unfortunate long-term side effects which we are just beginning to appreciate now…

Still, it is by a long way the closest we have got to a mea culpa from any of the architects of our current malaise. It beats Dick Fuld's petulant dissimulation – best summed up as 'Shocking mistakes have been made, but not by me. Heads should roll, but not mine' – into a cocked hat. With the FTSE down nearly 300 points this morning, we can't help wondering if and when this mood of contrition will cross the Atlantic.