Aldi and Lidl look set to win the battle for Christmas dinner
New data shows sales at the discount supermarkets are booming.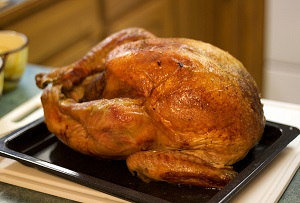 If Britain's ailing supermarket giants were hoping they could rely on their traditional saviour, the festive season, to solve their problems, they might have another thing coming. The latest data from Barclaycard, which processes almost half of Britain's debit and credit card transactions, suggested that spending at the major supermarkets has fallen 4.1% in the year to date, while spending at discount stores has leapt 30%.
The average basket size for discount shoppers has grown £1 to £24 in the period, while those for the big players have shrunk £2 to £27. It's unclear how Aldi's decision in October to begin accepting credit card payments might affect the figures in the future, though.

'As the nation's supermarket wars continue to hot up, consumer spending trends suggest value retailers will win the battle for the nation's Christmas dinner,' said Barclaycard CEO Val Soranno Keating. 'In 2013, spend at discounters in November and December soared, while the mainstream retailers saw spending fall. Unless they up the stakes, the battle for Christmas looks tipped in favour of the discounters.'
Lidl has been trying to lure penny-pinched consumers to their stores for their Christmas shop with offers like £5.99 for a whole cooked lobster and £11.99 bottles of champagne, while Aldi is offering six mince pies (which beat Fortnum and Mason in blind taste tests) for £1.69. Tesco et al clearly have a festive fight on their hands.