Aldi pokes fun at John Lewis's man on the moon
The discount supermarket is apparently keen to promote its cheap and cheerful telescopes.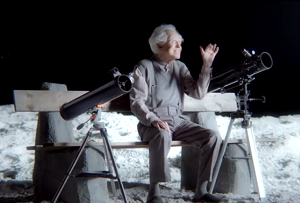 The Christmas advert season is well underway. Sainsbury's story of a hapless cat might have drawn the most laughs but John Lewis, king of the festive ads, managed to put out another epic tearjerker.
Just hours after the department store's man on the moon ad went live the internet was awash with spoofs – from a Star Wars themed number to this darker tale, which likens the ad's protagonist to Adolf Hitler. Now discount supermarket Aldi has joined in too.
Aldi's main character, the spitting image of John Lewis's elderly moon resident, sits on a bench between two telescopes. 'I like this [telescope]. And I like this one,' he says, evoking Aldi's long-running ad campaign. Two prices pop up and, of course, Aldi's telescope is markedly cheaper than that sold by John Lewis.